Home
Greetings from Peace International Foundation! 
It has been another successful year for celebrating peace in Hong Kong and PIF has fostered exciting new associations in the Year of the Horse with the Hong Kong Education Bureau, La Salle College and the European Union Office to Hong Kong and Macao.
We have witnessed the creation and debut of our very first 60-piece Peace International Youth Orchestra, led by Mr. Philip Chu, our Principal Conductor, during the UN Peace Day Ceremony and the 'Ode to Peace' Concert in September 2014. We have also officially launched our Student Peace Club Project, which is spearheaded by Mr. Adrian Tang, President of the National Student Peace Club, and we will be working closely with Hong Kong educational institutions to promote peace initiatives.
We are most grateful to United Nations who has co-hosted the Hong Kong Peace Festival with PIF for the 7th year and the kind support and generosity of our passionate charity partners, donors and sponsors, as well as our advisors, peace music artists, youth leaders, and active peace members who selflessly contribute their time and energy to make our events and activities in Year of the Horse a success.
We take this opportunity to wish you all a Happy New Year of the Sheep, and may the blessings of peace spread throughout the world! Let us all join together as brothers and sisters to create an even better tomorrow!
With love from all of us at Peace International Foundation. Gong Xi Fa Cai!!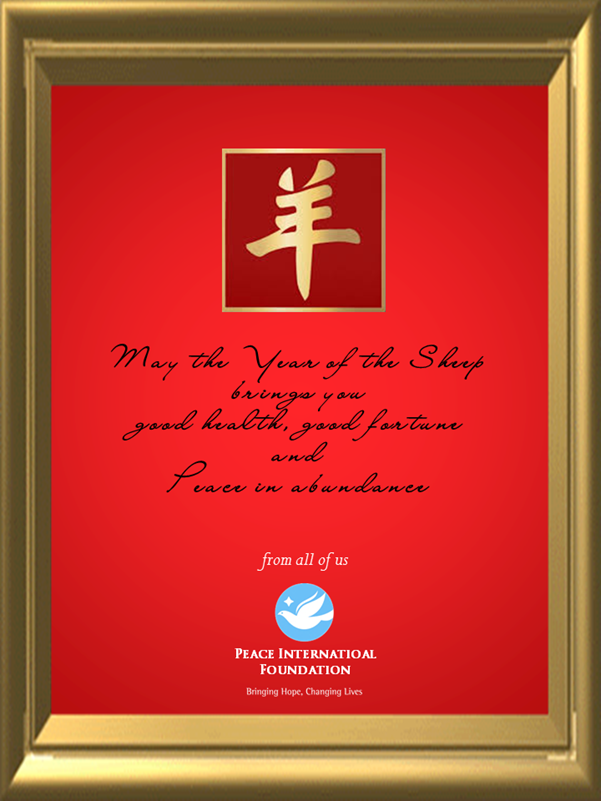 May
Peace
Prevail
in
Hong Kong
May
Peace
Prevail
on
Earch